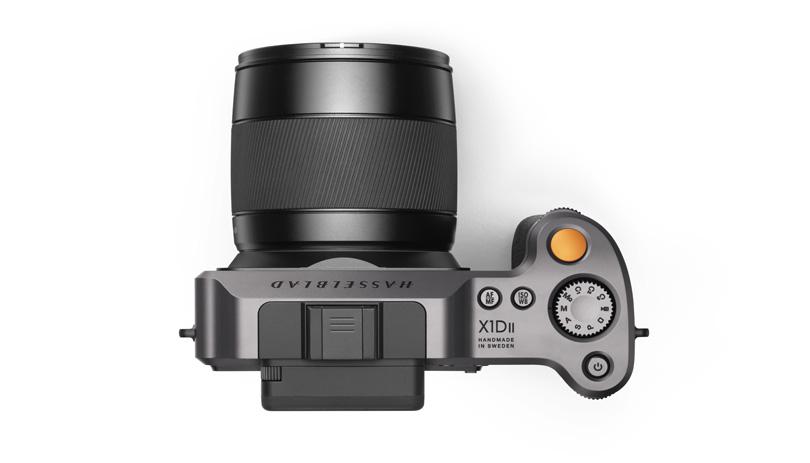 THE POWER OF PORTABLE 
Lightweight and portable, the X1D II 50C lets you take the power of medium format in a footprint smaller than most full frame 35mm cameras. Individually calibrated for optimal performance, its large 50-megapixel medium format CMOS sensor (43.8 x 32.9 mm) features outstanding colour depth and a huge dynamic range of 14 stops. Hasselblad Natural Colour Solution technology is integrated into the camera's system, delivering superb, true-to-life tones that match what the human eye sees. Blending form and function in its ergonomic design adopted from the award-winning first generation, the X1D II 50C continues to provide creatives with incredible Hasselblad image quality, with 16-bit RAW images and now full resolution JPEGs, in a compact, lightweight design.

INTUITIVE USER EXPERIENCE 
The X1D II 50C's brilliant 3.6-inch 2.36-million-dot touch rear display and enhanced 3.69-million-dot OLED EVF are updated with higher resolution, enabling a more accurate post capture evaluation of images. With an improved magnification of 0.87x, the X1D II 50C's EVF is now larger, letting you see the bigger picture. In addition, the menu system is now accessible when looking in the EVF, providing greater usability in the sunniest conditions. Building upon the previous generation's intuitive user interface with pinch-to-zoom and swipe image browsing, the X1D II 50C is refined with a quicker overall response when navigating through its menu system. Further additions to the rear display include autofocus point drag and drop placement and autofocus point size changes with pinch/spread finger movement. With a quicker startup time, a live view with a faster refresh rate of 60 fps, and the shutter lag and black out time between frames reduced, the X1D II 50C creates an even smoother user experience.

UPGRADED ELECTRONICS 
The X1D II 50C's updated electronic platform allows for a more responsive camera experience, including faster image previewing, enabling quicker post capture evaluation. In addition, a higher frame rate of 60 fps makes live view smoother in both the EVF and the rear display. The much higher resolution of the rear display screen (1024x768) gives a more vivid, true to life image viewing experience. In addition, the X1D II 50C now enables full resolution high quality in-camera JPEG images with Hasselblad's signature colours. Dual SD card slots, now supporting the faster UHS-II standard, ensure optimal storage space or the option to back up images to a second card when shooting.

TOTAL CONNECTIVITY 
Built-in Wi-Fi and USB-C connectivity create a portable photographic workflow with wireless or tethered image export and tethered shooting using Phocus Mobile 2. Tethered shooting is also applicable with Phocus' desktop version, available for both Mac and PC. An internal GPS module enables optional automatic geotagging of images. Dual SD card slots ensure optimal storage space or the option to back up images to a second card when shooting. The X1D II 50C enables in-camera battery charging via USB through a computer, charger or power bank.

PORTABLE WORKFLOW WITH PHOCUS MOBILE 2 
Expanding the possibilities of the Hasselblad workflow, Phocus Mobile 2 takes the image editing process to a new, portable level. Compatible with the X1D II 50C via either USB-C or Wi-Fi, Phocus Mobile 2 is supported on iPad Pro and 2019 iPad Air models, enabling the traveling photographer to have a quicker, more seamless workflow. With Phocus Mobile 2, users can import, edit and rate RAW images and import and rate full quality JPEG images directly on their device. In addition, Phocus Mobile 2 supports full quality image export, tethered shooting, and direct camera control.

DESIGNED WITH THE PHOTOGRAPHER IN MIND 
Adopting the award-winning design of the first generation, the X1D II 50C continues with Hasselblad's heritage of blending form and function seamlessly for a smooth handling experience.
Milled from high-quality, solid aluminum and designed with a clean surface with only the most crucial buttons, all other commands are easily located in the rear touch display. With the shutter built into Hasselblad lenses instead of the camera body, the weight and size of the X1D II 50C is minimized, enabling a very compact form. 
XCD 3.5-4.5 24mm-75mm Zoom
PRIME LENS PERFORMANCE IN A COMPACT ZOOM
The XCD 3,5-4,5/35-75 Zoom Lens is the ninth addition to the X System lens range. Delivering the same superb image quality from edge to edge as the XCD prime lenses, this extremely high performance, compact mid-range zoom covers moderate wide angle to short telephoto focal lengths. Its internal focusing keeps the lens' dimensions constant, delivers quick autofocus and additionally keeps the overall weight down. Ideal for shooting anything from wide angle landscapes to portrait images, this lens is perfect for photographers who are looking to keep the amount of equipment they carry when travelling to a minimum but don't want to compromise on image quality. Like the rest of the XCD lens range, the XCD 35-75 features an integral central lens shutter, offering exposure times from 68 minutes to 1/2000s with full flash synchronisation throughout.
THE PORTABILITY OF MULTIPLE FOCAL LENGTHS IN ONE LENS
With multiple focal lengths in one lens, the XCD 35-75 gives the photographer numerous options in a travel-size package. Carrying less equipment but still having access to various focal choices lets the photographer focus on their shot with quick adjustment rather than needing to change between different lenses.
STREET. TRAVEL. LANDSCAPE. PORTRAIT.
The versatile XCD 35-75 is ideal for capturing everything from wide angle landscapes to portrait shots, making it a superb lens for travel, street and portrait photography.
BRILLIANT PRIME LENS PERFORMANCE
Rigorously tested, the extremely high-performance XCD 35-75 produces excellent imagery from every focal length, just as the XCD prime lenses. With a minimum distance object to image plane of 0.42m, the XCD 35-75 also performs superbly when shooting at shorter distances.
Hasselblad will also reintroduce the CFV 50C back and a new slim X-series body. The CFV II 50C will incorporate a tilting screen to emulate a waste level finder. Updates to the CFV II include a touch screen and a new menu system. The 907X has classic Hasselblad styling and will be a great addition to their lineup.
More details will be posted when they become available for this system.